Production
Rubin-Almaz, LLC, a small manufacturing company, has been one of the leading national manufacturers and suppliers of printed circuit boards of any level of complexity for 20 years. Our company works as a retail and wholesale manufacturer of home electronics, avionics and auto electronics.
Our customers are more than 40 instrument engineering plants in Orel region, and more than 100 Russian electronics manufacturers.
Our company keeps pace with the technical progress and innovations – our experts guarantee high quality printed circuit boards made of any material – glass fibre laminate, ceramics, aluminium base, polyimide, fluoroplastic – according to GOST 23752-79 Printed Circuit Boards, General Specifications and GOST P 50622-93 "Double-sided printed boards with metal-coated holes".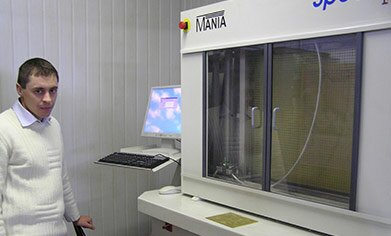 Printed circuit boards are manufactured at our own plant. The product goes through several process stages at our design engineering department, electronics and mechanics department and manufacturing site. Our advanced equipment ensures automated metal coating process, highly efficient pipeline processing, laser mask layout production, collimated light exposure, screen printing and final electric board control.
The mathematical simulation of process operations in cooperation with the Technical University in Orel, the engineering of printed boards and process flow based on the advanced automated design systems help us fulfil our customer's most complex tasks.
Etch-resistant mask of green, black, grey, white and super white with specified reflectance is implemented on the basis of our advanced innovative facilities.
You can not only buy a printed circuit board, but also get professional advice on your project even at its initial stage of development. Our company is competent and experienced enough to offer turn-key assembly services on a contract basis. Printed circuit boards are manufactured wholesale or retail within a minimum term of 5 days.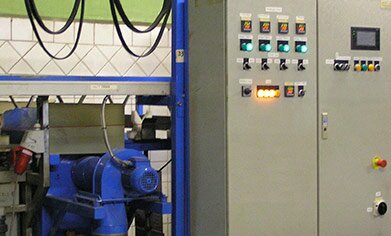 Rubin-Almaz, LLC, manufactures one- and two-sided printed circuit boards including complexity class 5, with 0.1 – 0.1mm 'clearance-conductor' ratio, flexible and flex-rigid printed boards, polyimide-based boards, ROHS lead-free boards, aluminium-based printed boards for lamps. Our company plans to launch the production of multilayer printed boards and ceramic printed boards, to organise an assembly site.
Rubin-Almaz, LLC participates in theoretical and practical conferences organised by Petrocommerz, LLC, the Centre of Modern Electronics, and Absolute, LLC, in the two capitals. Our company was a participant in SUBCONTRATACION-2003 international exhibition in Spain, PRODUCTRONICA-2015 international exhibition in Munich (Germany), ELECTRONICS-2016 international symposium in Munich (Germany). In 2007 the company became one of 1000 best companies in Russia.